I decided several weeks ago to share this hymn I love, and scheduled the post. I just wanted to get a head start on blog posts, since I knew things were going to be busy. Typing up the words to the song made me smile – such a great message!
Of course that was before this past week. And this week has been so incredibly hard. I shared Monday that we were saying goodbye to David's grandfather. We were supposed to drive to Georgia Tuesday to attend his funeral. But Monday afternoon our oldest, Makaylah, slipped and fell while running and broke both the bones in her lower leg. It has been gut-wrenching watching her suffer, and today she is being put under general anesthesia to get a full leg cast. This means weeks of using a wheelchair to get around. We also have to find a good system for helping her in and out of the house when my husband can't help, because we have a big hill and then stairs leading up to our front door.
In addition to how awful it has been to see her in so much pain, we spent all Tuesday taking care of her injury, rather than going to Pawpaw's funeral. That is heartbreaking. It makes me want to scream at the unfairness of it all. Why did this have to happen? Why now? Of all times?
When I thought about this post, I wanted to delete it. Share anything else. But as I read back over the words of this wonderful hymn, I realized that it is just as true today as it was a few weeks ago, before all of this happened.
Come Thou Fount
Come thou font of every blessing
Tune my heart to sing thy grace
Streams of mercy never ceasing
Call for songs of loudest praise
Teach me some melodious sonnet
Sung by flaming tongues above
Praise the mount I'm fixed upon it
Mount of thy redeeming love

Here I raise my Ebenezer
Hither by thy help I'm come
And I hope by thy good pleasure
Safely to arrive at home
Jesus sought me when a stranger
Wondering from the fold of God
He, to rescue me from danger
Interposed His precious blood

O to grace how how great a debtor daily I'm constrained to be!
Let thy goodness like a fetter, bind my wandering heart to thee
Prone to wander Lord I feel it, prone to leave the God I love
Here's my heart, O take and seal it, seal it for thy courts above
He is the fount of every blessing in my life.
I need Him to tune my heart to sing of His grace, of His mercy that never ceases.
Every day, I am a debtor to His matchless, overwhelming grace.
How desperately I need Him to hold my wandering, doubting heart!
He is my rock.
I need to be fixed on Him, even when I don't understand, even when this life breaks my heart.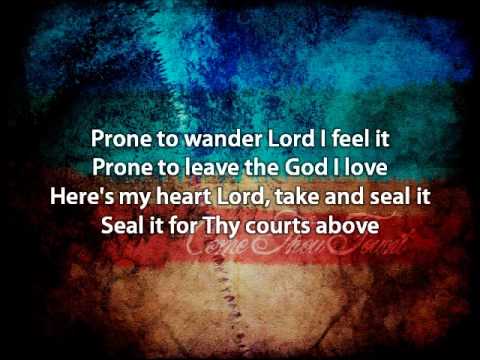 What helps you keep your eyes focused on Christ in the midst of life's storms? Is there a particular song or verse that has spoken to you?