We are linking up again with the Breastfeeding Blog Hop, hosted byThe Slacker Mom, and co-hosted by The Gnome's Mom and Dairy of a Devil Dog Wife. This week's topic is: Breastfeeding Goals for 2012!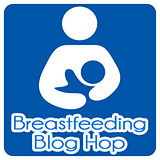 This post comes at the perfect time for me. See, my breastfeeding goals for 2012 changed drastically in early December when I found out that I'm expecting again. Before then, I had planned on breastfeeding my daughter until whenever. I had planned on at least another year. But with the new baby on the way, there have been some, well, adjustments to that plan.
My first goal of 2012 is to night wean…or at least to get Abby to go to sleep on her own without having to nurse my sore, sore nipples to death with her lazy night latch for 20 minutes. I think that's a reasonable request, but she's not convinced. Yet. However, she's also teething, so we're trying to find ways to keep her comfortable for longer periods at night. If I were getting more sleep, I wouldn't be concerned, but both me and my husband are struggling to stay awake these days.
My second goal is more of a hope, a dream. I would love to tandem nurse, especially since Abby is still fairly young. I had planned on nursing her for longer, and as long as I can still take care of me and two babies, then I will still be able to. But with my lack of energy before pregnancy, birth, and baby, and especially now with baby and pregnancy, I'm not sure that my body can handle it. We'll just have to play that one out by ear.
My third goal? To nurse this new baby and to still be breastfeeding next year when we list our goals for 2013. I just hope it's as easy the second time around!
If you're breastfeeding, what are your goals for 2012? I'd also love to hear any advice about breastfeeding while pregnant!