Today we get to share another great cloth diaper with you, the Glow Bug!
Glow Bug is run by two moms and friends, Neta and Sarah, who set out together to create the perfect cloth diaper. I hope you will take a few minutes to watch this great video of them sharing their story (plus you get to see lots of sweeties modeling Glow Bugs!)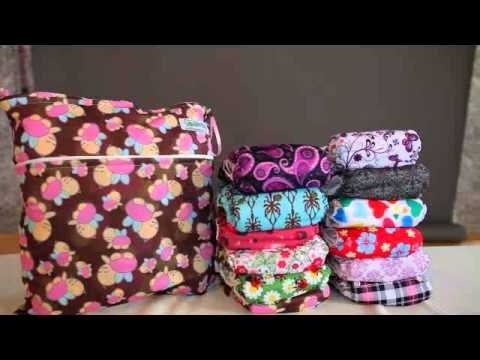 Melissa's Thoughts:
I was excited about trying Glow Bugs after hearing great things about them in a few cloth diaper groups I'm part of on Facebook. I loved the cute, unique prints, and the economical price!
After getting a chance to see the diaper in person, I was impressed with several of the features of this diaper as well.
The Glow Bug has an internal "gusset" system that is great for containing messes, without leaving red marks.
The Glow Bug also has both a front and back opening for stuffing your pocket, which is nice and wide, making stuffing easy. They also have a flap of the same soft Slim Dry material used for lining to keep the insert from rubbing against baby's skin. There is also a snap in the front of the diaper allowing you to snap the insert in place to prevent it shifting around during wear.
The Slim Dry lining is incredibly soft, and much thinner than most of the linings on my other diapers. It also cleaned very easily.
I was also impressed with the sizing of the diaper!
I can't speak for how this diaper would fit a little baby, but I love how well it fits both my 11 month old and 3.5 year old. If you are looking for one-size diapers that will fit a higher weight, you've found them! My son is tall and lanky, not chubby, but at 3.5 it is getting to be more of a challenge finding one-size diapers that fit well. But our Glow Bugs diaper not only fits, but he has some room to grow in (which he hopefully won't need before potty training!)
We did run into one issue with this diaper. My younger son is a heavy wetter, and we got leaks every time we used our Glow Bugs at first. I've since added the second insert, and we've not had any more day time leaks, but it definitely makes for a fluffier bum!
My older son is able to wear the diaper all night if we double stuff it, but not surprisingly, it was not night worthy for my youngest. But then not many diapers are!
If you are looking for an affordable cloth diapering option, that will work great for larger or older kiddos, these are well worth trying out! Just be prepared that heavy wetters will need both inserts and a different night time solution.
Jeniffer's Thoughts:
The first thing I noticed about my GlowBug diaper was the super cute print. I loved the one they sent me, too. Brown and aqua were the colors in my wedding, so having a diaper with them was pretty cool. It was definitely my new favorite! I love the bright colors and the matching snaps of this diaper. They definitely add some flair to my stash!
The second thing I noticed was that the inserts snap to the inside pocket of the diaper. The pocket is one of the widest I've seen, so thankfully getting the insert inside and snapped in place isn't an issue. The diaper comes with two inserts, but I haven't had to use them both at once since even at night my daughter is a very light wetter.
I did have a problem with my diaper. When I washed it a second time, one of the snaps came out! I was very upset, especially because I had just added it to my stash.
But the wonderful ladies at GlowBug not only apologized after telling me that it couldn't be fixed, they also sent out a replacement almost immediately. It was sent right after Thanksgiving, and when I received my second diaper, I was once again pleased with the design. This one is light purple with a darker purple pattern on it, and it's now the star of my girlie stash.
I highly recommend GlowBug diapers not only because they have a good product at a refreshing price but also for their customer service and care. They have been a joy to work with, even with the snap issue.
Buy It:
You can purchase a "booster" pack of 6 Glow Bug cloth diapers and 8 inserts for $70.00 from their website here, or a pack of 12 diapers with 24 inserts for $150. Packages are available in boy prints, girl prints, or "spectrum" (bright, radiant, gender neutral colors).
Win It: