We're linking up with the Breastfeeding Blog Hop again! We're joining Life with Levi, The Slacker Mom, and Diary of a Devil Dog Wife this week to talk about breastfeeding and the environment.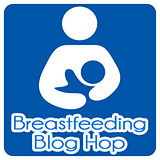 When I found out that this week's topic was breastfeeding and the environment, my first thought was of course I'm helping the environment! Even with my manual pump and few bottles, I'm saving lots of energy and resources that are necessary to manufacture and distribute hundreds of formula cans that I'd be using otherwise.
And then I looked at the numbers, just for fun.
The average amount spent on formula per month ranges from $146 to $210, depending on where you live and any coupons you use. I just want to point out that I haven't even spent that much on the little extras I have for breastfeeding. For. realz.
That alone is enough to make me pause. But then I found the cost benefits of formula on kellymom.com. Um…wow.
"A minimum of $3.6 billion would be saved if breastfeeding were increased from current levels (64 percent in-hospital, 29 percent at 6 months) to those recommended by the U.S. Surgeon General (75 and 50 percent). This figure is likely an underestimation of the total savings because it represents cost savings from the treatment of only three childhood illnesses: otitis media, gastroenteritis, and necrotizing enterocolitis. This report reviews breastfeeding trends and previous studies that assessed the economic benefits of breastfeeding."

The Economic Benefits of Breastfeeding: A Review and Analysis by Jon Weimer. ERS Food Assistance and Nutrition Research Report No. 13. 20 pp, March 2001.

"Total Annual Cost of not Breastfeeding: $1.186 to $1.301 Billion"

Cost Benefits of Breastfeeding (1997) by Karen M. Zeretzke, MEd, IBCLC

sources and quotes from KellyMom. I recommend reading all the quotes listed!
Just those two facts alone are mind boggling! A minimum of $3.6 billion would be saved from treating only three childhood illnesses? Also that the total annual cost of not breastfeeding was so high in 1997! Can you imagine what it is today??
The fact is that our impact on the environment isn't found only in limiting our resource consumption. It's also seen in how we spend our money. Which sounds like the same thing, but trust me. It isn't.
For example, Americans spend around $450 billion each year on Christmas alone. And apparently we spend at least $3.6 billion each year on not breastfeeding. Or at least we did in 2001, a decade ago. This doesn't even include the energy and resources needed to manufacture and distribute formula!
But what if instead we spent our money, for Christmas or formula or whatever, on others? On helping other countries build their resources? Even if 100,000 women breastfed for just the first month and put what they would have spent on formula (using the lower $150) towards ending the water crisis, they would have donated $15,000,000! That's a fair dent in the $10 billion necessary to end it forever, and it's even more impressive when you realize that it takes only $10 to give clean water to a child for life.
Wouldn't that be something to get attention off of formula companies? Save our resources and a child's life! Breastfeed! Hey, it could catch on.