As you, our lovely readers, may have picked up on, Melissa and I breastfeed our babies. So to join in on the wonderful support group that exists for breastfeeding moms, we are joining in on the Breastfeeding Blog Hop.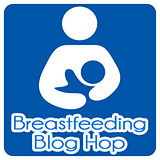 This week's topic? Breastfeeding resources.
I was not breastfed after 2 weeks. I had been in the hospital with jaundice, and the lovely nurses gave me sugar water. My mom had a very difficult time breastfeeding me because of that and other issues, and in order to salvage our relationship, she quit. For my next sisters, she breastfed for 6 months. And my baby sister was breastfed until 9 months, when she weaned herself. Thankfully, my mom's bad experience with breastfeeding with me didn't deter her from trying again.
I knew my mom breastfed. And because of that, it has always seemed like the natural, logical choice for me. It didn't hurt one bit that my mother-in-law breastfed or that my sister-in-law (Melissa) has successfully breastfed all 4 of her children. And my husband has always supported my breastfeeding decision, too.
Having a rich support system of women who have already been there is one of the best resources available for new moms who want to breastfeed. Period. Hands down. After all, isn't that how women learned generations ago? Women learn best from other women, from watching them and from asking their advice. Of course, the situation I've been blessed with isn't always available. And at times, the information is lacking. Where do you go when you don't know anyone who breastfeeds? Or what do you do when you have an especially hard time for one reason or another, when no one you know personally can help?
There are, of course, books. Reading about breastfeeding before your child even arrives is always a good idea. Though I haven't read any actual books on the matter, The Womanly Art of Breastfeeding has been recommended over and over again. I figure it's a win.
Then, once your child is born, there are usually lactation consultants in the hospital who are more than willing to work with you. I'll be honest, I avoided mine until the last day. I thought I had it, but Abby was having a hard time latching on, so I finally gave in and asked. Her advice was invaluable, and I owe a lot of our subsequent success to her! So, even if you think you have it covered, ask! Make sure! It's a lot easier to ask while in the hospital than waiting until you get home.
Once you do get home, look online for your nearest Le Leche League leader. Go to a meeting, ask questions, and enjoy being around like-minded mamas! Not everyone has a built-in breastfeeding support group, but if you can find a local Le Leche League chapter, you can find friends who will back you up in any circumstance. I've been amazed at what can come from like-minded mamas and how readily they have each others' backs. For example, one mama in a city close by was forcibly asked to stop breastfeeding in a federal building. She was on the Internet that afternoon, venting about it, and by that night, a nurse-in was formed. Because her friends were so upset about it, she was sent a letter of apology from the supervisor before the nurse-in. Of course, they still had the nurse-in anyway, and those who couldn't make it backed her up with comments on the local newspaper website and Facebook page as well as sent her encouraging comments on Facebook. Mamas, you do not have to do this alone! Find some real-life friends and build your support group!
And one of my all-time favorite resources? The Internet.
Whether it's the #bfcafe chats on Twitter or The Leaky B@@b on Facebook, look for mamas who have been there, for lactation consultants online who are more than willing to research for you, to find out information if they don't know it, and to share experiences with you! There's always someone online who has been down a similar path, so don't be afraid to ask.
Thankfully, Abby and I haven't had too many problems. I'm currently going partially dairy-free (the child still has acid reflux at 5+ months…I'm pretty sure there's an underlying problem here), and I'm thankful for what Melissa has found through all of these resources because I'm able to learn how to problem-shoot Abby's issues from her experiences. But if Melissa hadn't gone through what she has (read her post here on it), then I could easily have found the information I needed through any of these resources. There are women out there who want to see you succeed in breastfeeding. You don't have to do this alone.
Thanks to Jen at Life with Levi for hosting! If you'd like to join in on the fun, check out her blog for the details, and then LINK UP!!